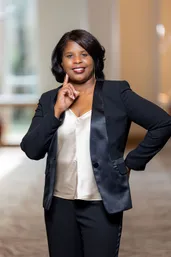 Tiffany Ridgeway, Ph.D. is an professor at a major University. She enjoys helping teacher candidates gain professional insight and practical teaching experience as well as coaching teens and young adults with their transition to college. Dr. Ridgeway received her Bachelor of Science in Elementary Education from the University of North Texas. Her Master of Arts in Elementary Education at Texas A&M-Commerce. She continued her education at Mississippi State University, where she earned her Doctor of Philosophy in College Leadership.
Dr. Ridgeway has over 20 years of experience ranging from leading, teaching, and counseling students within a public-school and alternative school setting working with at-risk students in addition, to training teacher candidates at institutions of higher learning.
Dr. Ridgeway has created and developed a strong student organization at the University level where students have an opportunity to broaden their horizon, lead, network, and complete service-learning projects within their communities.
Philosophy

Throughout many years of working with students in various capacities, I have been blessed with the opportunity to work with a diverse population of students to ensure that they are provided various opportunities to learn and grow.
It is very important that as a professional educator I maintain a keen interest in the success of my students but also a desire to equip students with the best resources to help them succeed and achieve their goals. It is my obligation to ensure that I maintain a high level of value and remain passionate about education so that I am able to make a sustainable difference in the lives of all students.
My goal is to continue to provide opportunities to students as well as be challenged with new task that will help me to grow as a coach, educator, and leader as well as maintain a positive influence in the lives of others.
To schedule educational services please contact me at (281) 467-1956 or email [email protected]